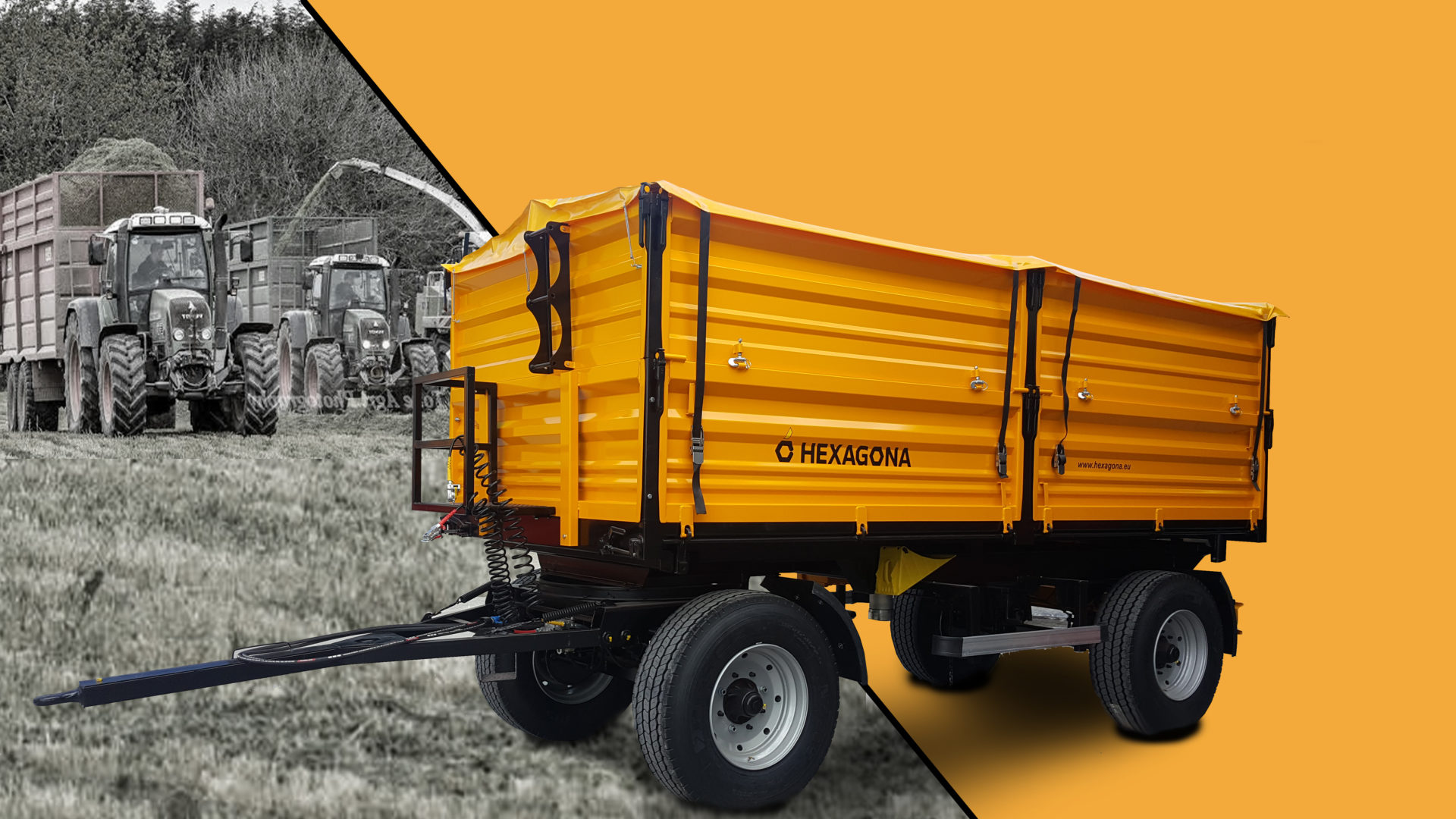 TIPPING TRALERS HAVE SINGLE, DOUBLE, TANDEM, THREE AND TRIDEM AXLE TRAILERS IN PRODUCT RANGE. TIPPING SYSTEMS ARE BACK, LEFT, RIGHT, LEFT & RIGHT AND THREE SIDE TIPPING. LOADING CAPACITY IS BETWEEN 2,5 TONS AND 24 TONS. TIPPER TRAILERS DESIGNED FOR MAXIMUM PERFORMANCE FOR AGRICULTURE. PROFILE CHASSIS AND THICKER PLATFORM / SIDE WALLS ARE FOR DURABILITY. ELECTROSTATIC POWDER COATING IS FOR ANTI CORROSION DURABILITY.
ARMOR SERIES ARE PERFECT FOR TRANSPORTING ALL AGRICULTURAL GOODS. THEY DESIGNED ESPECIALLY FOR SLAGE, GRAIN, WOOD CHIPS AND BULK MATERIALS. THEY HAVE HARDOX OPTION IN THEIR PRODUCT RANGE FOR CONSTURCTION PURPOSES.
THEIR ST-52 PROFILE CHASSIS AND AXLES WITH YOU AGAINS HEAVY DUTY CONDITIONS. ARMOR DURABILITY WILL MAKE YOUR JOB EASIER. HYDRAULIC CONTROLLED REAR WALL HAS SEALING OPTION FOR ANTILEAKING. FREE STEERING AXLE OPTION IS WITH HEAVY DUTY USERS.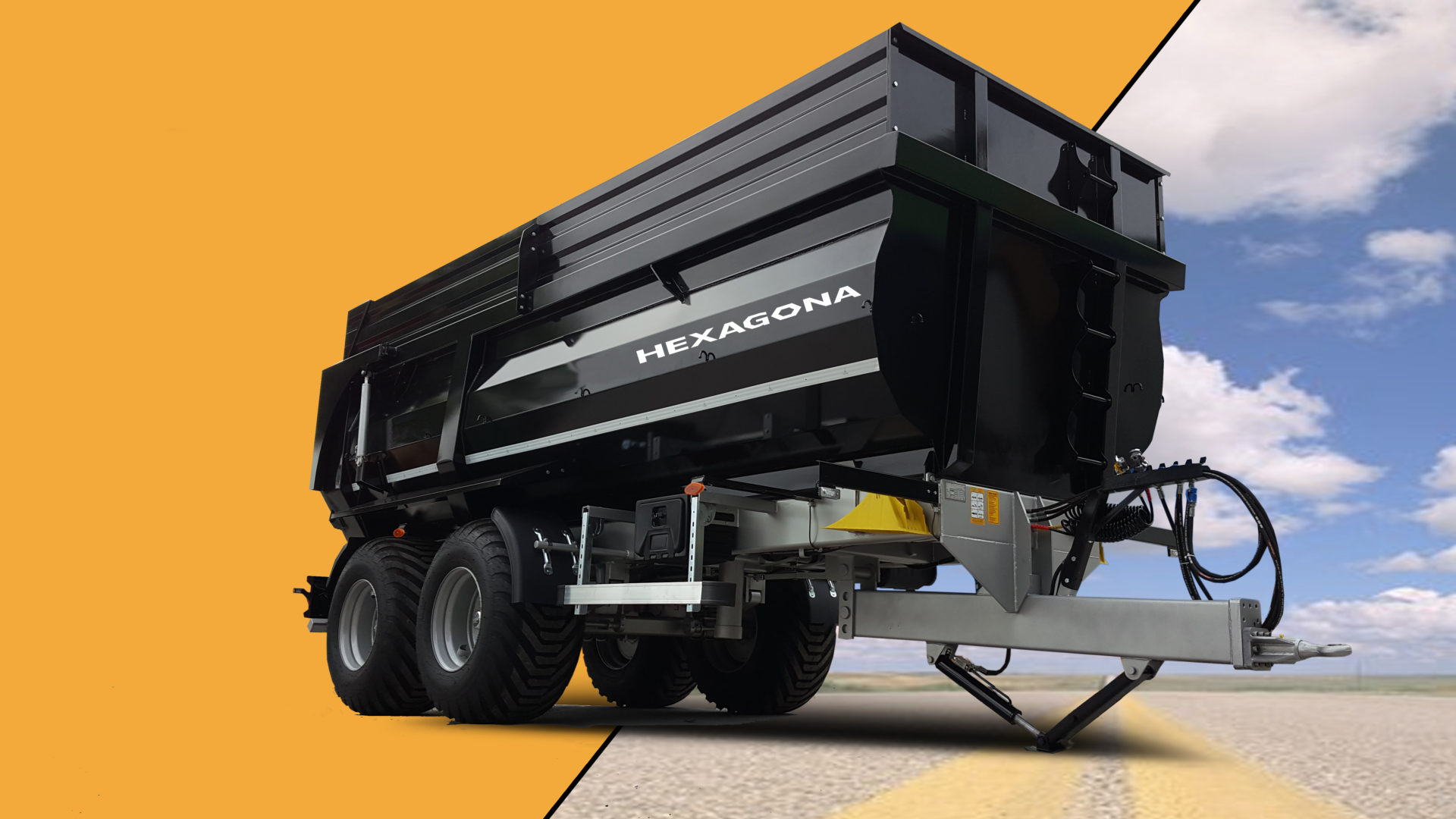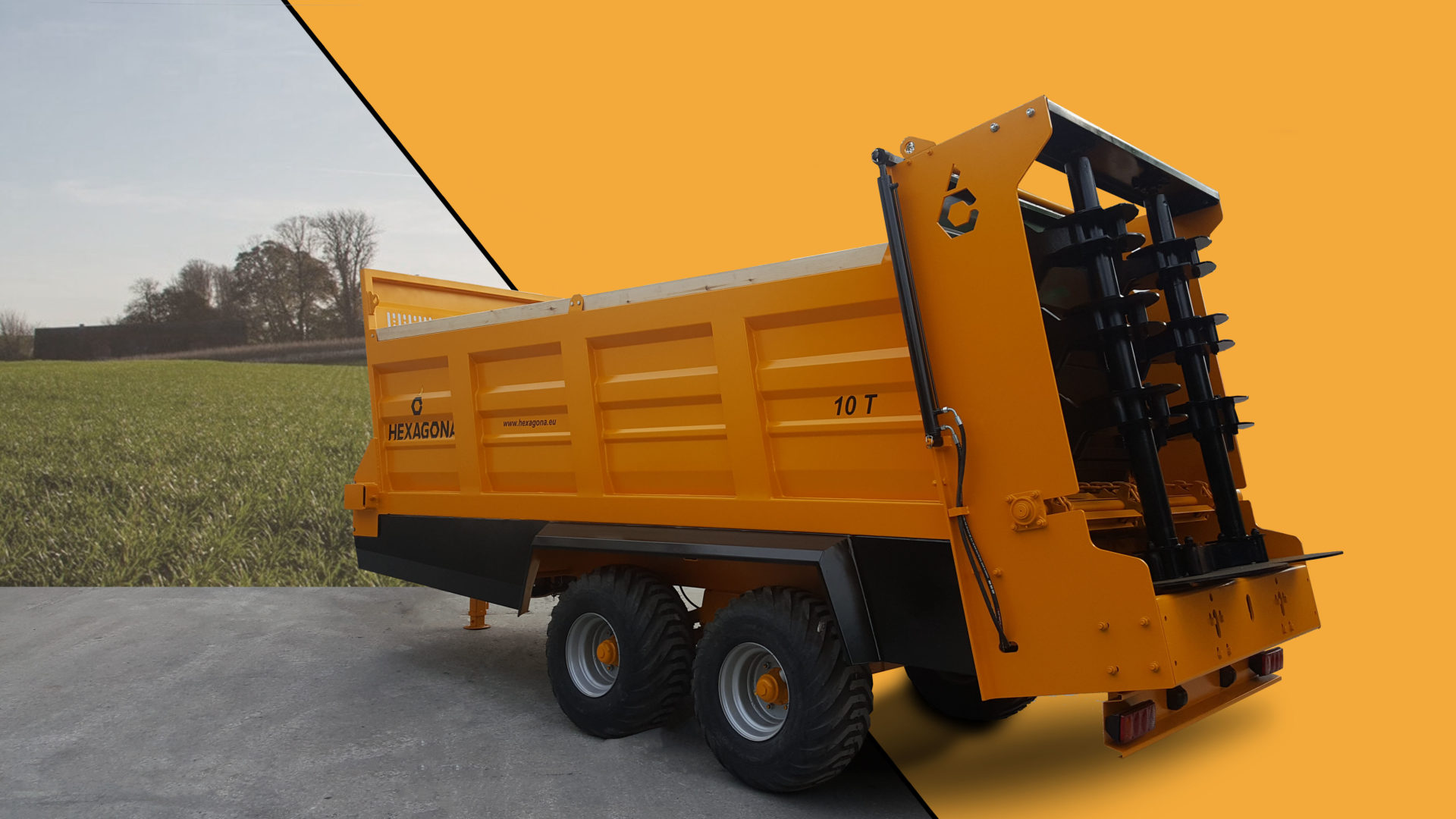 UNIVERSAL SPREADER OF ORGANIC FERTILISERS WORK ON THE PRINCIBLE OF A FLOOR CONVEYOR, DOUBLE VERTICAL MILLING BEATERS AND SPREADING TABLES. THE DRIVE OF THE FLOOR SPEED ADJUSTABLE CONVEYOR IS PROVIDED BY A HYDRAULIC MOTOR. CONVEYOR POWERED WITH 14.50 CHAIN AND STRONG SPROCKET. PTO SHAFT DRIVES THE MILLING OF ROLLERS AND 25 MM SPREADER DISCS OR SPIRAL COILS. A TIGHT GUILLOTINE DOOR WHICH CAN BE ADJUSTED ON THE FULL HEIGHT OF THE BEATERS CAN BE INSTALLED. IT AVOIDS LOAD LOSSES DURING TRANSPORT AND MAKES IT POSSIBLE TO REGULATE THE FLOW WHILE SPREADING.
AQUA TANKS ARE HEXAGONA'S UNIVERSAL TANKS WHICH ARE DESIGNED FOR TRANSPORTING WATER AND FUEL. THEIR GALVANIZED TANKS DURABLE AGAINST CORROSION.
PARDUS SERIES IS HEXAGONA'S SLURRY TANKS. TANKS HAVE INNER PARTITION BREAK WATER. THE AIM OF WHICH IS TO PREVENT A SUVSTANCE FROM WAVING. HOT GALVANIZED DEEP, GALVANIZED SHEET AND EPOXY PAINT ARE OPTIONS FOR TANKS. SLURRY TANKS ARE POWERED WITH BATTIONI PAGANI PUMPS.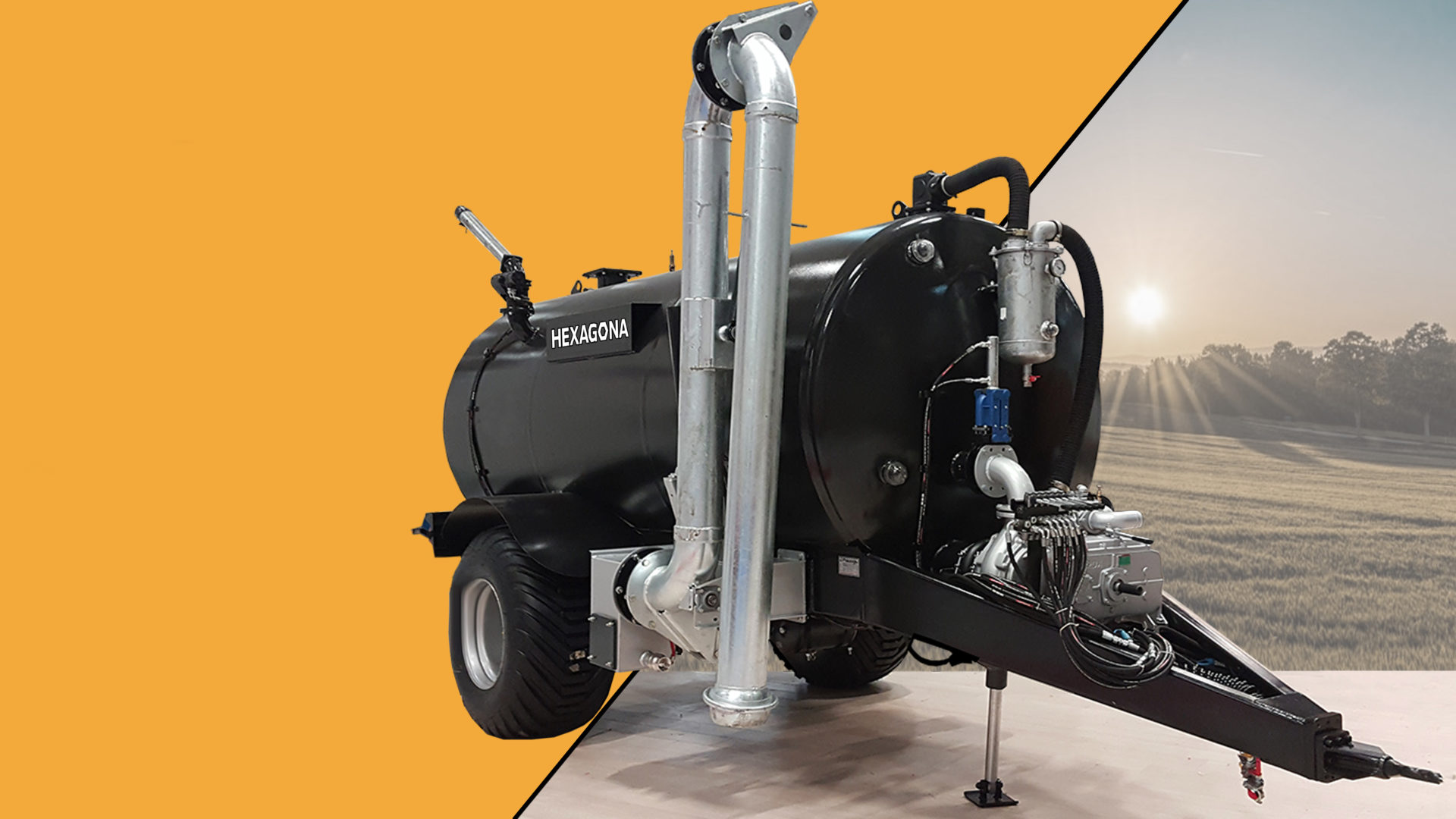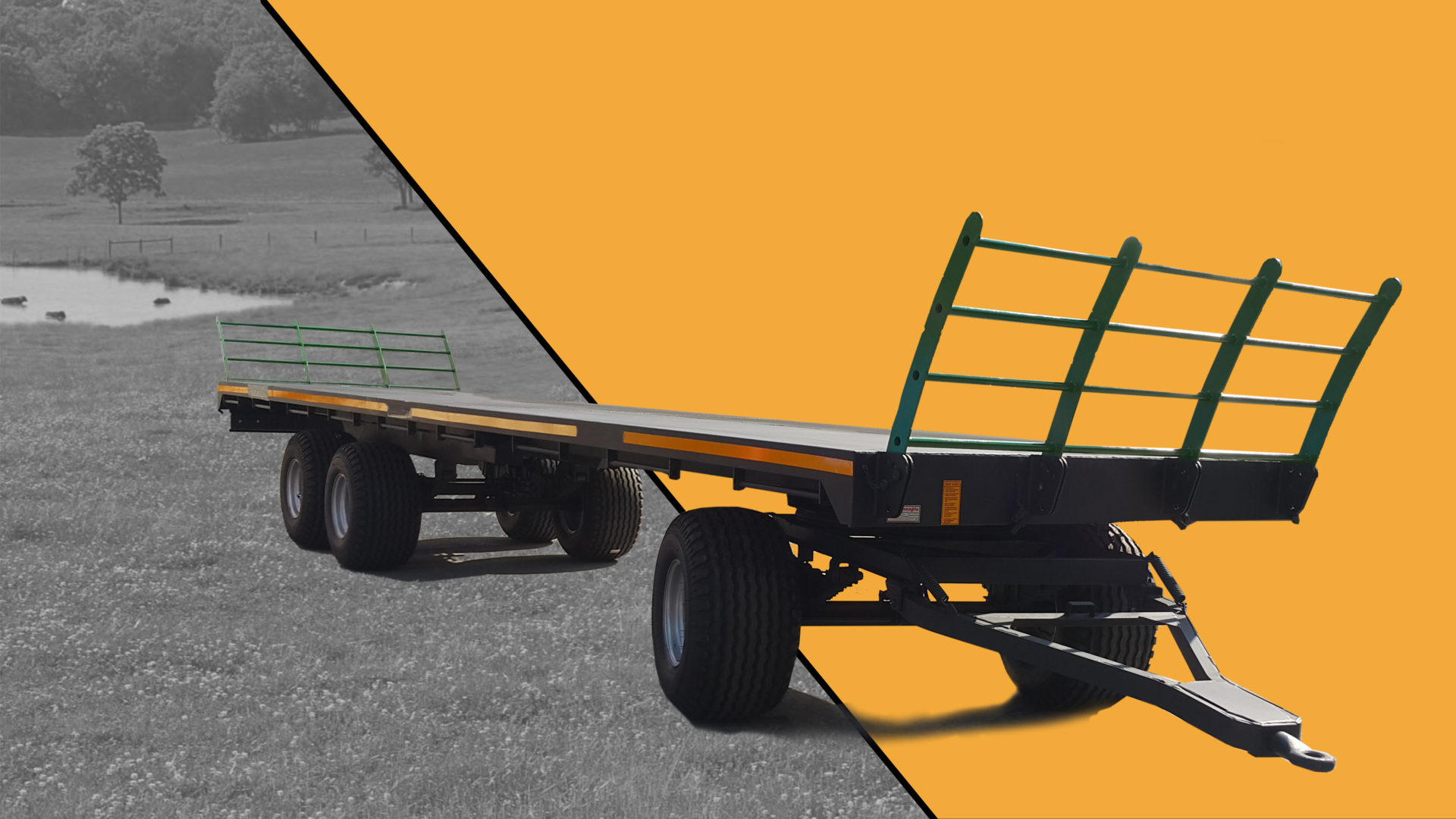 THE DESIGN OF THE LOAD PLATFORM ENABLES EASY LOADING AND UNLOADING BALES. PLATFORM TRAILERSARE CHARACTERISED BY SIMPLICITY AND USABILITY WHICH IS DUE TO THEIR STRONG CONSTRUCTION, ALLOWS THE TRANSPORTATION OF AGRICULTURAL BALES, SQUARE BALES, PALLETS, BOXES, FORESTY SAWN WOOD, WOOD LOGS AND VARIOUS LONG MATERIALS AS WLL AS WIDE VARIETY OF DIFFERENT MATERIALS INCLUDING PACKED PRODUCTS USED IN CONSTRUCTION, INDUSTRIAL, MUNICIPAL, COMMERICAL ETC. AXLES DESIGNED FOR LONG DISTANCE PUBLIC ROADS. PLATFORM TRAILERS ALLOW YOU TO CONNECT SECOND PLATFORM TRAILER.